President Jacob Zuma will on Tuesday, 09 May 2017, launch the New Metro Commercialised Full Train Service as part of government's transport modernisation programme and massive infrastructure development in Pretoria.The new trains, affectionately known as "The People's Train", are part of PRASA's modernisation programme, which will be implemented over the next 20 years.
The 20-year Modernisation Programme is aimed at revitalising the rail industry through training and skills development for both Passenger Railway Agency of South Africa (PRASA) employees and young people interested in railways.As part of this programme, the passenger rail infrastructure and systems will also be upgraded over the period ahead.  Passengers travelling between Pretoria and Piennarspoort will now travel using the new state-of-the-art trains.
In addition, the Modernisation Programme will also focus on upgrading the current rail infrastructure while continuing to deliver new trains for community use.
This significant milestone comes less than 10 years since PRASA was established to address the decline of passenger rail and drive the re-investment into passenger rail modernisation. In 2004, Cabinet approved the consolidation of Passenger Rail Entities from Transnet and the South African Transport Service (SATA) creating a single Passenger Rail Agency of South Africa (PRASA).
PRASA has entered into a contract with the Gibela Rail Transport Consortium in 2013, valued at R59 billion, to deliver 600 new train-sets, with 580 to be produced locally and 20 manufactured in Brazil. The manufacturing of the locally produced train-sets will see the construction of the new Train Manufacturing Plant valued at approximately R 1 billion at Dunnottar Park, City of Ekurhuleni.
This is line with the contractual obligation for Gibela to meet a minimum 65% localisation on the manufacturing of its new trains as per the Industrial Policy Action Plan (IPAP2).  The Local Manufacturing plant which is currently under construction will once completed, employ approximately 1 500 people, 99% of which will be South Africans, 85% historically disadvantaged and 25% of this being women.
The manufacturing activities have been progressing very well, with a total of 38 local components having been used in the manufacturing of the first 20 trains that were manufactured in Brazil. Currently, Gibela is engaging various local suppliers in preparation to enter into contracts to supply various components for local production. In addition, the Manufacturing Plant will, once complete, also house a Training Centre designed to train approximately 19 527 individuals in various rail focused skills in order to create a pool of skilled individuals to feed the rail industry with skilled labour.
Prasa has 585 train stations and a total fleet of 4,735 coaches, with an overall staff complement of 18,207. Zuma also appealed to commuters to handle the trains with care and look after them, saying that acts of vandalism and serious crimes such as the burning of trains were totally unacceptable.
 Related Links:
President Jacob Zuma said on Tuesday that government was investing a lot of money to improve the way people travel.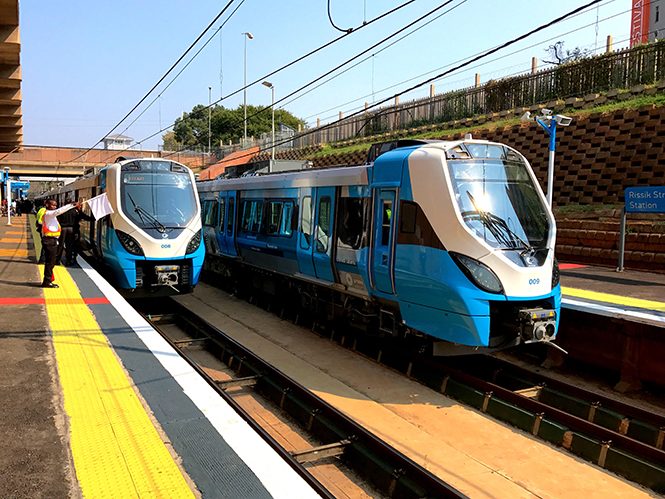 President Zuma today successfully launched the new PRASA trains operated by Metrorail. The new trains, affectionately known as "The People's Train", are part of
President seen as trying to shore up popular support amid mounting crisis and upcoming no-confidence vote in parliament
President Jacob Zuma said on Tuesday that government was investing a lot of money to improve the way people travel.
President Jacob Zuma launched the Metrorail Commercialised Passenger Train called The Peoples Train in Pretoria. Here are 5 things you need to know about the brand new train.
The rail agency is acquiring 600 suburban-service trains, officially known as the X'Trapolis, from French power and transport group' Alstom' through its local vehicle Gibela.
President Jacob Zuma on Tuesday unveiled 13 new passenger trains to be operated by the Passenger Rail Agency of South Africa's (PRASA's) Metrorail division. The X'Trapolis Mega trains were built by the Gibela Rail Transportation Consortium and form part of those to be delivered under a R59-billion contract to supply PRASA with 600 new trains.